THE WORK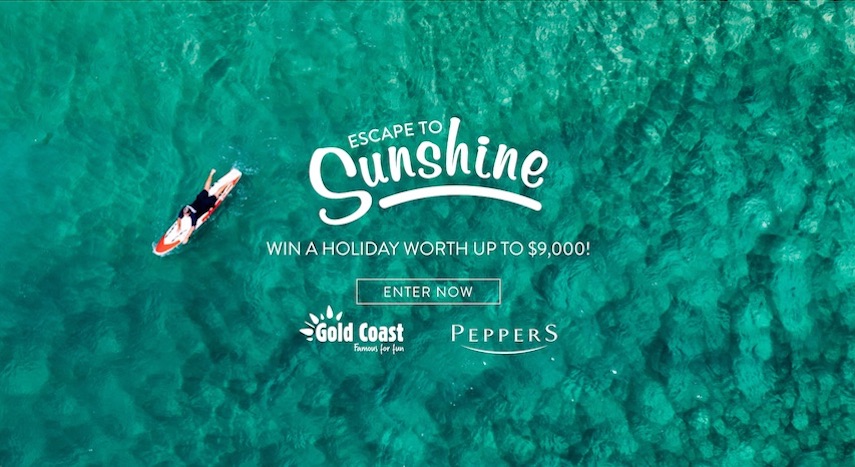 THE THINKING
As part of Gold Coast Tourism's ongoing acquisition strategy to build loyalty and increased engagement through ongoing conversation and brand experience, Escape to Sunshine was the third campaign rolled out to strengthen their existing audience and activate potential new subscribers. This was also accelerated by a partnership with Peppers through exposure to their database as well as showcasing their various properties throughout the Gold Coast as part of the prize element.
XCOM designed and developed the 'Escape to Sunshine' campaign. Like previous campaigns, the microsite celebrated all the areas the Gold Coast has to offer through large aspirational imagery as well as catering for a family getaway or a romantic escape for couples.
Facebook connect was used to encourage social sharing, with bonus entries available by sharing via Facebook, Email or LinkedIn. Plus, exclusive offers from Peppers were also delivered to all entrants through automated and re-targeting sends.
OBJECTIVES
To create an engaging viral with a simple to enter, mobile-friendly mechanic to grow the Gold Coast Tourism (and Peppers) subscriber database and brand advocacy. As well as celebrating the Gold Coast destination.
OUTCOMES
42,226 Total Shares
69% New Subscribers
Case Study
CLIENT
Gold Coast Tourism
CAMPAIGN
Escape to Sunshine
Celebrating all the areas the Gold Coast has to offer that caters for a family getaway and a couples escape.
A crisp and slick design with clear imagery and concise information which is easy to read for entrants.
The competition engaged entrants to win a holiday worth up to $9,000
The prize celebrated the Gold Coast's beautiful scenery and destination to the lucky winner.
SUMMARY
XCOM designed and developed a strategic campaign for Gold Coast Tourism, to improve their subscribers' experience and encourage interaction. The Escape to Sunshine campaign was in-market for just over 6 weeks with one of three Peppers holiday packages up for grabs worth up to $9,000.
SOLUTION
The microsite has a consistent and polished theme with sophisticated imagery and engaging content to entice subscribers to enter the competition.
RESULTS
69% of entrants were new subscribers
45% opt-ins to Pepeprs
21,151 shares on Facebook
30% of entrants were existing subscribers